This weeks Champions Corner, Recruit to Know features some of the top 2024 recruits that everyone should know about. These prospects are ones who are gaining interest or will be soon heating up and taking off in regards to their recruitment. We try to get a leg up and let our readers know who are some of the top prospects to know about in Texas High School football and who your favorite division I college football teams could very well be soon recruiting. Today there is one running back who caught our eye during our film evaluation of the top running backs in the class of 2024, and one who stood out is Morton Ranch high schools Ryan Hall.
Evaluation & Analysis
Ryan Hall (24′) | 5-11, 210 | RB | Morton Ranch
Ryan is an explosive running back out of the backfield with elite speed and enough gas to take runs all the way into the Endzone for six points at any moment's notice. On offense and special teams, Ryan is threat and can be utilized in many different ways and schemes . A tough runner in between the tackles and shows good open-field moves. This season we suspect Ryan to come out and dominate every rep no matter where he is on the field. Ryan is without a doubt an FBS caliber prospect who faces tough competition playing for Morton Ranch high school and will most certainly evolve into a running back we believe will dominate at the next level as well too.
Coaches: if you dont know you should know 24' Morton Ranch RB @D1_bound_hall28

Elite speed & explosive out of the backfield. Can run in between the tackles, and be utilized many ways on off./or special teams. Flashes impressive open field moves. Has the https://t.co/3zitFsqmBy… https://t.co/u1oY12uYT0 pic.twitter.com/OVeEAcIxww

— Emmanuel Charles-Lobo (@LoboRecruits) March 8, 2023
I had a great time showcasing my skills! @NextLevelD1 Can't wait for what's next to come.@CoachMattSciba @rybeard_20 @MRHS_MavsFTB @Locklyn33 @CoachKeeton @samojuri22 @TeamKamMartin @CoachDunny pic.twitter.com/O92WgIeA09

— Ryan Hall (@D1_bound_hall28) February 2, 2023
Stats & Accolades
Ryan Hall C/O 2024
RB, FB
GPA 3.5
22-23 Junior season
128 /825 yards (6.8 avg)
10 touchdowns
⭐️1st Team All DISTRICT-FB
⭐️1st Team All DISTRICT ACADEMICS
⭐️2nd Team All GREATER HOUSTON-FB
⭐️2nd Team All STATE TSWA-FB https://t.co/ptgbctgq20

— Ryan Hall (@D1_bound_hall28) February 11, 2023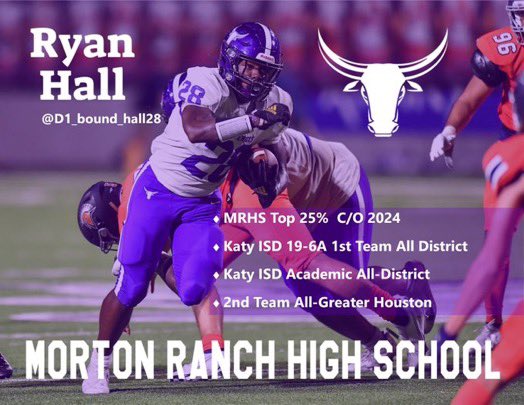 View Ryans profile as well as some of the other top recruits on Morton Ranchs program here.