As we approach the midpoint of the Texas high school football season, it's time to take a closer look at the top running backs in the class of 2024. Let's delve into the rising stars of Texas high school football, specifically the standout running backs from the class of 2024. These promising athletes have not only demonstrated their exceptional skills on the field but have also garnered significant attention from many across the nation.
1. Taylor Tatum, RB, Longview
(Photo credit: news-journal.com) 
Taylor Tatum, a running back for Longview, has already committed to the Oklahoma Sooners. Tatum's impressive career thus far has solidified his position as one of the best running backs in the nation for the class of 2024. With a combination of agility, speed, and vision, Tatum has proven to be a force to be reckoned with on the field. His ability to elude defenders and find open lanes sets him apart from his peers. The Oklahoma Sooners have secured a star player in Tatum, and his future in college football looks promising.
2. Caden Durham, RB, Duncanville
(photo credit: dallasnews.com ) 
Caden Durham, a running back hailing from Duncanville, has already committed to the LSU Tigers. Known for his lightning-fast speed, Durham is a true track star on the football field. His athleticism is evident in every play, as he leaves defenders in the dust with his quick bursts and acceleration. Durham's ability to change direction effortlessly makes him a nightmare for opposing defenses. With his commitment to LSU, the Tigers have gained a dynamic playmaker who will undoubtedly make a significant impact in the coming years.
3. Nate Palmer, RB, College Station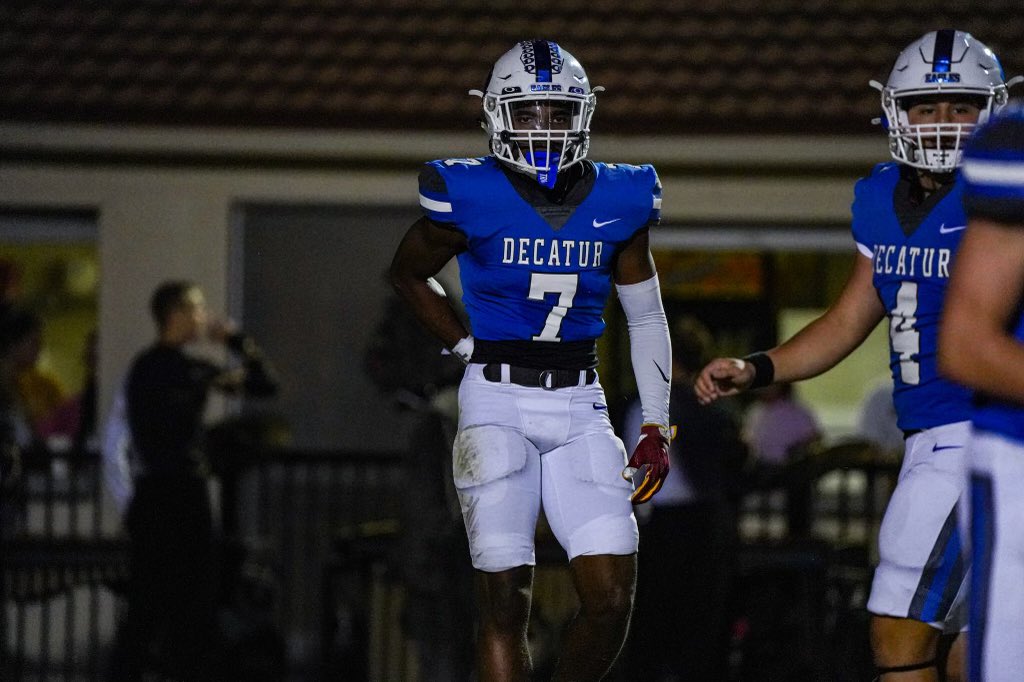 (photo credit: si.com) 
Nate Palmer, a running back for College Station, a commit to the TCU Horned Frogs. Palmer's speed and explosiveness out of the backfield make him a threat to score on any given play. His burst allows him to outrun defenders and find the endzone with ease. Palmer's ability to navigate through traffic and make defenders miss showcases his exceptional vision and agility. With his commitment to TCU, Palmer is set to continue his success at the collegiate level and contribute to the Horned Frogs' offensive firepower.
4. Kewan Lacy, RB, Lancaster
Kewan Lacy, a bruising running back from Lancaster, has been turning heads this season. Lacy's physicality and power make him a difficult player to bring down. He bulldozes through defenders, using his strength to gain extra yards after contact. Lacy's ability to break tackles and keep the chains moving has been instrumental in Lancaster's success. As he continues to dominate on the field, college recruiters all across the nation are taking notice of his talent and potential.
5. Bryan Jackson, RB, ATH, McKinney
(photo credit: McKinney running back Bryan Jackson (2) stretches the ball for the end zone to score past Allen defensive lineman Zina Umeozulu (9) during the first half of a District 5-6A high school football game on Friday, Oct. 14, 2022, in Allen.(Smiley N. Pool / Staff Photographer, Dallasnews.com)
Bryan Jackson, a running back from McKinney, is committed to the USC Trojans. Jackson is a physical force on the field, often overpowering defenders with his size and strength. His ability to shed tackles and power his way through the line of scrimmage has made him a key contributor to McKinney's offense. With his commitment to USC, Jackson is poised to make a significant impact on the Trojans' running game and continue his success at the collegiate level.
These five running backs represent the cream of the crop in the class of 2024 in Texas high school football. Their skills, athleticism, and commitment to the game have earned them recognition as top prospects not only in the state but also across the nation. As the season progresses, it will be exciting to see how these young athletes continue to develop and make their mark on the field. College recruiters are surely keeping a close eye on these rising stars, and we can expect to see them shine at the next level.
The class of 2024 in Texas high school football boasts an impressive group of running backs who have already caught the attention of many around the nation. Taylor Tatum, Caden Durham, Nate Palmer, Kewan Lacy, and Bryan Jackson have showcased their unique skills and abilities on the field, solidifying their positions as some of the best prospects in the country. With their commitments to powerhouse college programs, these young athletes are poised to make a significant impact at the collegiate level and beyond. As fans of the game, we eagerly anticipate watching their journeys unfold and witnessing the bright futures that lie ahead for these talented individuals.