Listed below are the top big fellas in the state who make it all happen! It all starts in the trenches, and the players named do a fantastic job of setting the tone. A few of these names may look familiar, but there are many more on this list who impact games and are key to their teams' success. These maulers have taken care of business on and off of the field and have shown even at a young age that they can play with the best. Extremely high ceilings for all of these talented players!
Harris Sewell | 6'4″ 290 | IOL |  Permian
Sewell is as physical as physical can get. He plays with incredible strength and tenacity! More than likely, the man lined up across from him will be on the ground for the majority of the game. Sewell has great quickness and moves incredibly well on pulls and tosses. He is a player who constantly seeks out contact and is a bulldozer who clears paths for his running backs. Sewell is ranked as one of the top interior linemen in the nation and was named to the First Team All-District team last season. Just know when watching Sewell, expect to see a high number of pancakes.
Benjamin Hartman | 6'4″ 295 | IOL/ OG|  Lake Travis
Hartman has great size for an interior lineman and displays incredible strength and power. Hartman engages with a defender and controls everything from that point. He decides where this player goes and when Hartman is finished, the defender is pancaked. Hartman does an excellent job of creating run lanes in the middle and is dominant in the run game. He has strong hands and shows great awareness, finding who is the biggest threat to the play and moving them 5 yards out of the play. Expect Hartman to get much attention next season and continue to dominate his opponents in the trenches.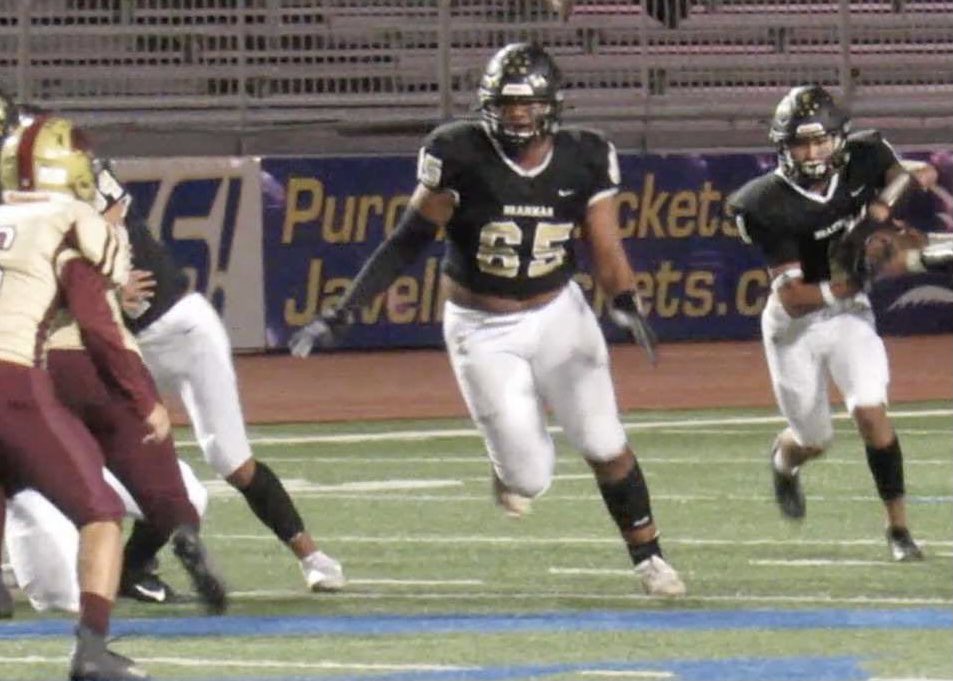 Justin DeLeon | 6'4″ 280 | OT | HM King
DeLeon stands out with his length and frame at the tackle position. He is another very physical player who is a nightmare for opposing players. DeLeon takes defenders on rides 10-15 yards down the field when engaged and does not let up the entire game. He wears down his opponents with his physicality and just moves them out of the way like toys. DeLeon was named to the First Team All-District team of his district and recently became a Baylor commit earlier this month. DeLeon has a very bright future and will have many more programs knocking at his door before it's all done.
Colton Thomasson | 6'8″ 330 | OT |  Smithson Valley
Thomasson is a mountain of a player and moves very well for a player with such size! Thomasson shows great drive on blocks and constantly keeps his feet moving. As an interior lineman, he makes life very difficult for linebackers and defensive tackles. He blocks the sight of everybody and if your feet are stuck in mud, he is running you over. Thomasson was named First Team All-District last season. Thomasson had a very good camp season this summer, drawing the eyes of many coaches and programs. Expect Thomasson to be even better than he was last season after putting in some incredible work this offseason.
Isaiah Kema | 6'4″ 275 | IOL | Frenship
Kema is a physical guard who excels at pulling. He shows very good speed getting out of his stance and seeks out contact. Kema has good length and shows great strength when engaged. He is always looking to put a defender on their backs even on plays away from him. Nobody is safe from pancakes when he is on the field. Kema was named All-District from his physical play. He is a player to definitely watch out for this upcoming season who can blow up very quickly.
John Taplett | 6'4″ 260 | OT |  Southwest Christian
Taplett showed good versatility playing some snaps in the interior as well as at the tackle position. Taplett looked like a true athlete with his speed and quickness. He sprints down the field makes a living running through the secondary. In a run-heavy offense, Taplett does a great job of making space for runners. He shows very good lateral movement and shows physicality at the point of attack. Taplett will turn heads this upcoming season no doubt about it!
Kolt De La Torre | 6'2″ 280 | IOL / OG |  Denton Ryan
De La Torre is excellent at the center position in both the run and passing game. He is quick with his hands, delivering quick strikes to opponents chest and stunning them before they gain momentum. De La Torre uses his leverage very well, getting under larger defenders and dictating where they move. He is physical off the snap and is quick with his movements, creating large run lanes for his backs. De La Torre was a unanimous First Team All-District selection and was also named a second-team MaxPreps Sophomore All-American. Expect De La Torre to be even better this upcoming season!
Zachary Sessions | 6'4″ 290 | OT/OL | Morton Ranch
Sessions had very good playing time at the guard and tackle positions. He has good length and displayed very good strength. Sessions showed some good feet in his pulls and moved very well getting out of his stance. Sessions shows the potential to develop into an incredible lineman and as long as he continues to put in work and continue to develop it can all become true!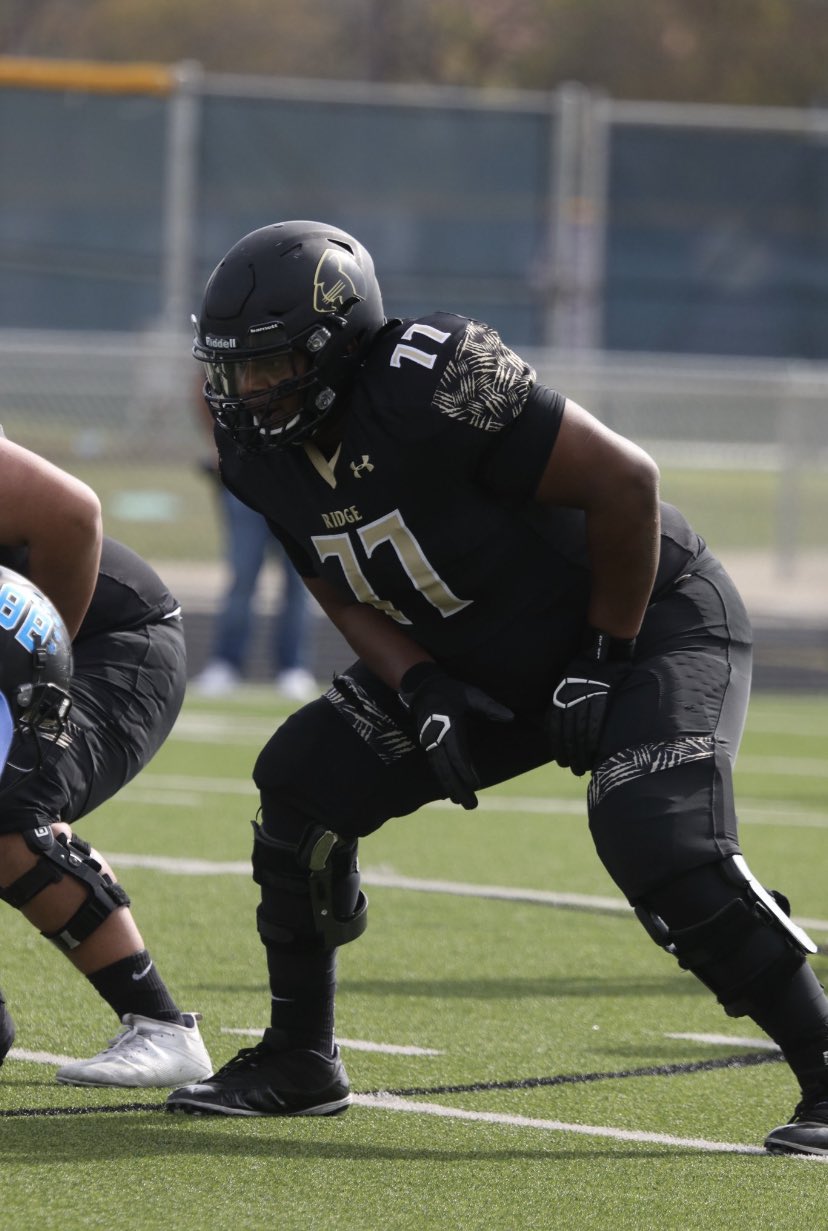 Lajuan Owens | 6'4″ 325 | OG/IOL |  Fossil Ridge
Owens is another monster at the tackle spot. He is a massive player who loves to hit. Owens shows incredible strength and power, and is just a bully when engaged in blocks. He can kick out and get to the outside when needed against a speed rush, but excels on down blocks and working his way to the next level. Owens plays with tremendous physicality and will have you wish you did not have to go against him. Expect Owens to get the attention he deserves this upcoming season.
Cobe Williams | 6'1″ 260 | IOL/ OT | College Park
Williams is a true athlete playing the guard and tackle position. He moves incredibly well and shows a great burst off the snap. Williams shows very good strength, driving players totally out of the play, and finishes off his blocks with great physicality. He looks very good on zone runs, stretching all the way to the sidelines, crossing his opponent's face with ease, and gaining leverage. He earned First Team All-District honors from his play. Williams plays with a fire which is exciting to watch. His time is coming and he will be talked about much very soon!
Isaiah Robinson | 6'7″ 280 | OT | Arlington Lamar
Robinson is a force at the tackle position! When watching his film, you can understand why he is a highly sought-after player just heading into his junior year. Robinson has the size, the length, and shows incredible athleticism. He moves very well showing good feet and is a physical player off of the line. Robinson has the prototypical size already and only gets better with more time spent on the field. Expect to hear a lot of his name for the season as he continues to develop into a top player.