Today we take a look at some of the state of Texas best senior offensive linemen going into this season. This week we also covered some of the linemen in the senior class who could really raise their stock this year and be dominating forces for their teams in the trenches here in this article 2022 Offensive Linemen Prospects on the Rise. So let's dive right into it and see which recruits could have the biggest impact on their team's success this season.
Pre-season elite 2022 offensive linemen
Devon Campbell | 6'3″ 310 | OT |  Arlington Bowie
Devon is a five-star prospect who is arguably one of the best offensive linemen recruits in the 2022 class and one of the best in the entire country to watch this season. Campbell holds over 31 DI offers to schools like Oklahoma, USC, LSU, Alabama, and Texas, to name a few at the top of his list. Devon has average height, a solid frame, and athleticism relative to his size. Devon delivers heavy blows with his punch and is a bulldozer finisher who terrorizes position players at the second level and pulling around the edge. Should be special in college to watch and possesses NFL draft potential.
Kelvin Banks | 6'5″ 285 | OT |  Summer Creek
Kelvin just committed to the Oregon Ducks, which sent shockwaves through the world of recruiting after experts thought he possibly could stay in-state. It seemed Texas and Texas A&M had good chances but all that is over and Banks will be taking his talents to Eugene, Oregon after his senior year. Kelvin can move piles and open up gaping holes for running backs. Pass pro is very solid. With great size and talent, it will easily translate to the next level and possibly to the pros for Banks.
---
PJ Williams  | 6'4″ 245 | OT | Dickinson
Aggies commit and four-star prospect who chose A&M over nearly 20 other D1 schools. Williams will be a special one to watch on that Dickinson O-line this season. He is very athletic, double sport athlete that also plays basketball. A very raw-talented player who has areas of improvement in pass technique but shows a mean struck blocking, putting guys in the dirt.
Kam Dewberry  | 6'4″ 315 | OT | Atascocita
Big Kam, many have been high on this prospect. One of the very few seniors still uncommitted at his caliber. LSU, Ohio State, Texas A&M, and Alabama are all after the Atascocita star offensive linemen. Kam has great size and talent. Which will easily translate to the next level wherever he decides to go. Helped his team to a third-round 6A playoff appearance. As a sophomore was named Maxpreps All-American and first-team district selection.
---
Neto Umeozulu  | 6'4″ 300 | OT | Allen
Umeozulu brothers in Neto and Zina have been special athletes for the Allen Eagles. Two very highly rated prospects on the national recruiting level. Neto is going into his senior season with 33 Division I offers. USC is a very high prediction for Neto to commit to. Should be exciting to see where he ends up choosing and fun to watch this season. Allen has arguably one of the best offensive lines coming into this season.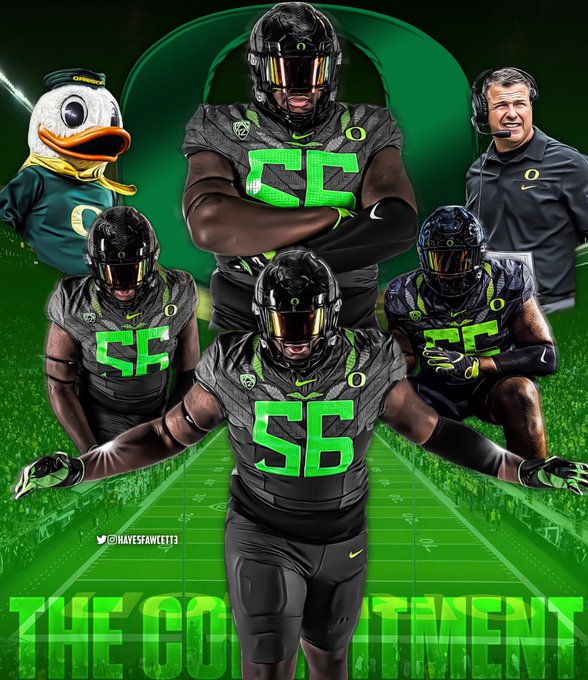 Cameron Williams | 6'6″ 320 | OT | Duncanville
Cameron has great size and strength at 6'6 three hundred twenty pounds. He passes the eye test out on the field and does not disappoint in performance either. Bring the popcorn when you watch the film on this offensive lineman. He can drive defenders out of the field and put them in the dirt in pass pro. I love his long arms, overall strength, and size. Cameron will be special for Oregon who he committed to in early July of this year.
Jaylen Early  | 6'4″ 260 | IOL |  Duncanville
Jaylen is another Duncanville star offensive lineman. Duncanville has plenty of them. Offensive and defensively. Early recently committed to FSU and was high on many prestigious college recruiting boards. That panther offensive line will be a fun one to watch this season as they held their own all last season and are returning a few starters.
Cole Hutson  | 6'4″ 290 | IOL |  Frisco
Texas Longhorns commit Cole Hudson will be a special lineman to watch this season and is right up there in the conversation for being in of the best in the state with those previously mentioned. Coach Sark and co. get a solid offensive lineman who will anchor down that line and fight in the trenches. Hutson is a three-sport athlete who plays football baseball and track. Earned first-team all-district honors as a junior in 2020 and was first-team all-district as an OG as a sophomore in 2019.
Demetrius Hunter  | 6'3″ 290 | IOL | West Orange Stark
Hunter has the Sooners hot on his trail and is full-court press after Hunter who takes his official visit in September of this year. In 2020 hunter was a unanimous first-team all-district selection as a junior in 4A D-II.
Corey Hendrix | 6'5″ 300 | OT | College Station
Corey recently committed to SMU this past summer and will be keeping his talents in-state. In 2020 Corey was a unanimous first-team all-district selection as a junior. Hendrix has collegiate and NFL size already. Dominant in the run game. Hendrix maintains a low pad level and solid base while driving defenders into the ground seemingly every play. Proficient pass blocking as well and should be special to watch this season for College Station.
Hunter Erb | 6'6″ 305 | OT |   Eaton
In 2020 Hunter was a unanimous first-team all-district selection as a junior. Texas A&M commit, head coach Jimbo Fisher jumped at the opportunity to offer Erb and he committed after a visit at the beginning of the year to College Station and Oklahoma to see the Sooners campus. Erb is dominant in pass protection because of his size and technique, he poses a real problem for edge rushers to try to get around.