Texas high school football is known for producing top-notch athletes, and Anna High School is no exception. The 2024 season has seen some remarkable talent emerge from this school, with several senior recruits making a name for themselves. In this article, we will take a closer look at some of the standout athletes from Anna High School and their potential for success at the collegiate level.
CJ Miller: A Defensive Force to be Reckoned With
CJ Miller, has been a force to be reckoned with on the defensive side of the ball. Standing at an impressive 6 feet tall and weighing 215 pounds, Miller possesses exceptional speed and agility. His ability to read offenses and make impactful tackles has made him a standout player this season. Miller's intensity and passion for the game make him a valuable asset to his team. With his skills and potential, Miller is considered an FBS to FCS caliber linebacker who can cover sideline to sideline and deliver big-time hits.
Abram Greer: A Versatile Linebacker with Potential
Abram is a linebacker who can play in the middle or on the outside. He has an athletic built frame. Abram is quick off the LOS at the snap of the football. He shows his athleticism, speed, and agility making his way into opponent's backfields racking up TFLS or sacks. He shows he can beat blockers with his sheer speed, and elusiveness. Plays with a physical nature and it shows on the field.
Brandon Green: A Dominant Linebacker with Lengthy Arms
Brandon Green, possesses a lengthy and athletic frame, with plenty of room to add muscle. Green has the size and ability to be a prospect for FBS to FCS caliber programs. His speed, agility, and explosiveness allow him to beat blockers off the edge and make his way into the backfield for TFLs or sacks. With a high motor and excellent pursuit skills, Green consistently comes up with big plays. Whether rushing off the edge with his hand in the dirt or standing up at the outside linebacker position, he excels against both the run and the pass. With his lengthy arms and athleticism, Green's bull rush is impressive, often driving blockers into the backfield for TFLs or sacks. Overall, he is projected as a recruit for FBS to FCS caliber programs, needing more exposure to college coaches.
Grayson Stewart: A Promising Linebacker with Explosiveness
(photo credit: Grayson Stewart, Hudl) 
Grayson Stewart possesses the size, talent, and ability to play at the next level. However, there is room for improvement in his tackling technique. Stewart has the potential to level and lay out ball carriers with his size, speed, and strength. He demonstrates proficiency in both run and pass defense, showcasing his ability to cover opponents in space and make tackles. Stewart's explosiveness, speed, and agility suggest room for improvement and growth. Rushing off the edge may be his strongest position, and with more opportunities to get after the quarterback, he could tally more sacks or TFLs. All factors considered, Stewart is a recruit with FBS to FCS caliber potential.
Jadun Mason-Davis: A Raw Talent with Tremendous Potential
Jadun has a lengthy and athletic frame, with long arms and room for additional mass. However, he is considered a raw talent who needs significant improvement in technique. Mason-Davis has the potential to become a jamming defensive back or make a switch to the linebacker position or a hybrid safety role. Further development and experience at the FCS, DII, or lower levels are necessary to refine his skills before potentially transferring to Division I. While his impact on the field may take time, Mason-Davis possesses the intangibles to become a Division I player.
Jamison Adams: A Solid Prospect
Jamison looks like a solid FBS to FCS caliber hybrid safety and linebacker who can play both positions very well. On film Jamison showcases his talents and ability which led to interest in his film and it is evident with the amount of  interest Jamison has been able to garner. Jamison is a division I prospect. Plays against the run and pass very well, and lays the lumber on receivers or ball carriers who cross his path. Shows he can make plays, jar the football loose via a fumble or incomplete pass with his physicality which translates to his tackling ability.
Lane White: A Raw Offensive Line Talent with Tremendous Potential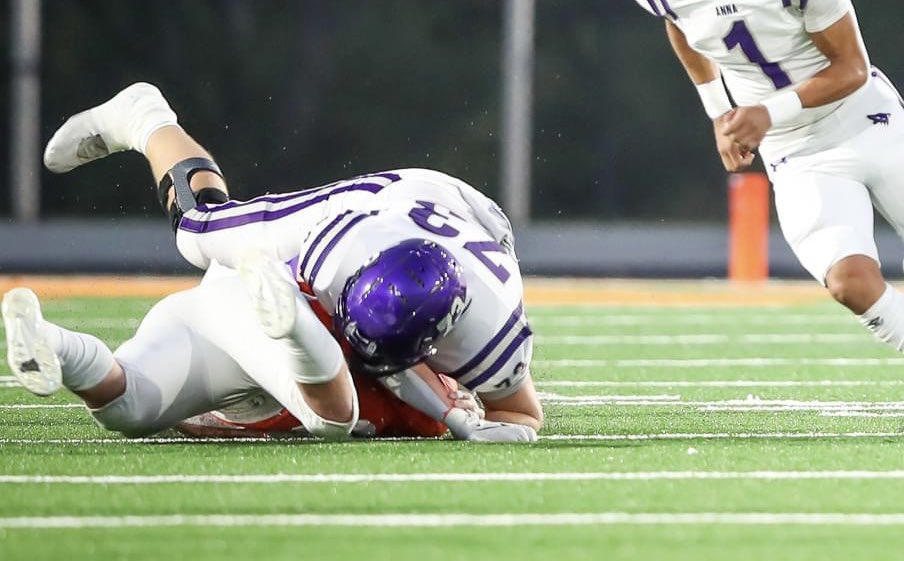 (photo credit: Lane White's, X.com) 
Lane White, a  bit of raw offensive lineman who possesses all the attributes required to become an FBS or Division I caliber recruit. Standing tall at 6-foot-5, White has the size, skill, and potential to make a significant impact at the next level. While his pass protection and run-blocking footwork and technique are decent, there is room for improvement. White's strength, long arms, and size allow him to overpower defenders and pancake them regularly. However, a more forceful and powerful punch would enhance his blocking capabilities. With further development and coaching, White could become a valuable asset to an FBS-caliber program, potentially earning playing time in his second or third year.
Nathan Nickerson: A Dominant Defensive Player
Nathan is a defensive lineman and linebacker for Anna High School, possesses a high motor, and displays a physical nature in his playing style. His tackling ability and the ability to beat blockers are evident in his junior season film. Nickerson is explosive off the line of scrimmage, showcasing agility and speed. He can overpower blockers with a devastating bull rush, making him a formidable presence on the defensive line or in the linebacker position. Nickerson has the potential to compete at the Division I level, and his skills could lead to immediate playing time or a significant impact for any program.
Sean Steens: A Speedy and Versatile Wide Receiver
Sean is undoubtedly a recruit with FBS to FCS caliber potential. Steens compensates has elite speed and versatility. He excels as a slot receiver but can also perform well on the outside. Steens showcases his speed and versatility on special teams and offense, possessing the ability to take the football the distance and burn defenders for touchdowns. While his route running and speed and agility at the snap of the football are already elite, improvement in these areas could elevate his game even further. Steens has the potential to dominate as a slot receiver at the Division I level, being utilized in various ways on offense, such as jet sweeps and bubble screenplays. He exhibits impressive yards after the catch ability, with great open-field moves. Steens could potentially be a 3-to-4-star recruit with multiple offers.
Conclusion: Anna High School's Rising Stars
Anna High School is home to a talented group of senior recruits who have made a significant impact on the football field. These players have demonstrated exceptional skills and potential, positioning themselves as top prospects for college football. From CJ Miller's defensive prowess to Sean Steens' speed and versatility, each athlete brings something unique to the table. With further development and exposure, these recruits have the potential to succeed at the FBS, FCS, or even Division I level. Anna High School is undoubtedly a breeding ground for Texas high school football talent, and these athletes are ready to make a name for themselves at the collegiate level.